There is a significant likelihood that all businesses are seeking additional clients regardless of their sector. However, lead creation is one of those inbound marketing subjects that may be a major source of stress for sales teams. Why?
Even the most successful firms occasionally struggle to strengthen their sales strategies and accelerate their growth. In addition, businesses of all sizes are increasingly seeking professional assistance to improve their performance. Moreover, they are doing it by employing a professional in lead generation.
A professional in lead generation assists firms in attracting and qualifying more prospective clients. Frequently, they are employed directly by B2B enterprises as part of the sales team. Additionally, they may be independent or freelance consultants who provide their expertise for a retainer fee.
Interesting Facts About Lead Generation
By 2022, employment in this business will expand by 12% to 15%, depending on expertise. Due to its exceptional dependability, effectiveness, and flexibility, Lead Conversion will remain in high demand in 2022. Let's dive into the interesting facts about lead generation. Keep reading!
1) Qualifications:
The majority of lead generation experts (51.2 percent) have at least a bachelor's degree, while 9.7 percent hold a master's degree. These postgraduate degrees can assist prospective lead generation professionals in developing their critical thinking abilities.
Depending on the courses they take, prospective lead generation professionals may also gain a deeper understanding of marketing techniques, theories, and the psychology of marketing.
It is not mandatory that lead generation experts have a bachelor's degree in a relevant discipline, such as marketing, even though this is the norm. However, it may provide you with an advantage over the competitors.
2) Roles & Responsibilities:
A lead generation professional collaborates with a firm to enhance its capacity to nurture new leads and expand its sales funnel. As leads begin to arrive, the lead generation specialist will also assist in qualifying and scoring the leads so that the marketing and sales teams are aware of where each lead is in the buyer's journey.
They may then utilize this information to capitalize on the lead's potential, follow up accordingly, and optimize their time spent nurturing the most probable prospects to convert.
To successfully attract and nurture these early leads, lead generation professionals must possess strong communication skills, assessment skills, and a great grasp of the modern consumer.
As part of a larger digital marketing plan, it is part of the lead generation specialist's responsibility to generate and distribute content. While the precise format might vary by sector or area, this often comprises blog posts, social media material, videos, landing sites, and email marketing, among other things.
3) Required Skills:
Below are the skills that are required for lead generation.
Expertise with CRM Software
Customer relationship management (CRM) software is used by many business-to-business (B2B) businesses to manage interactions and analyze client data. Lead generation professionals who have a general grasp of CRM software can navigate the applications their organization uses to track and evaluate leads.
Knowledge of Sales Procedures
Lead generation professionals need to have a thorough understanding of sales processes and objectives to find sales leads. A sales funnel or purchase funnel is the path a consumer follows in acquiring a product or service. The sales funnel illustrates a sale's steps.
Understanding the sales funnel may facilitate the process of generating leads and eliminate unneeded ambiguity that could derail a deal.
In addition to interpersonal and communication abilities, a lead generation specialist's responsibility may also entail data analysis. To assign a score to a lead, specialists may need to assess many data points and present the sales team with a summary of their results. It is also essential for professionals to appropriately understand CRM data.
In the age of data-driven marketing, every marketing and sales professional must possess analytical abilities. Specialists in lead generation must be aware of the typical time necessary to convert a lead into a sale, the number of follow-ups required, the average transaction amount, etc.
When discussing the funnel, they should know the time required for a leader to join the next step, the drop-off rate, and the conversion rate.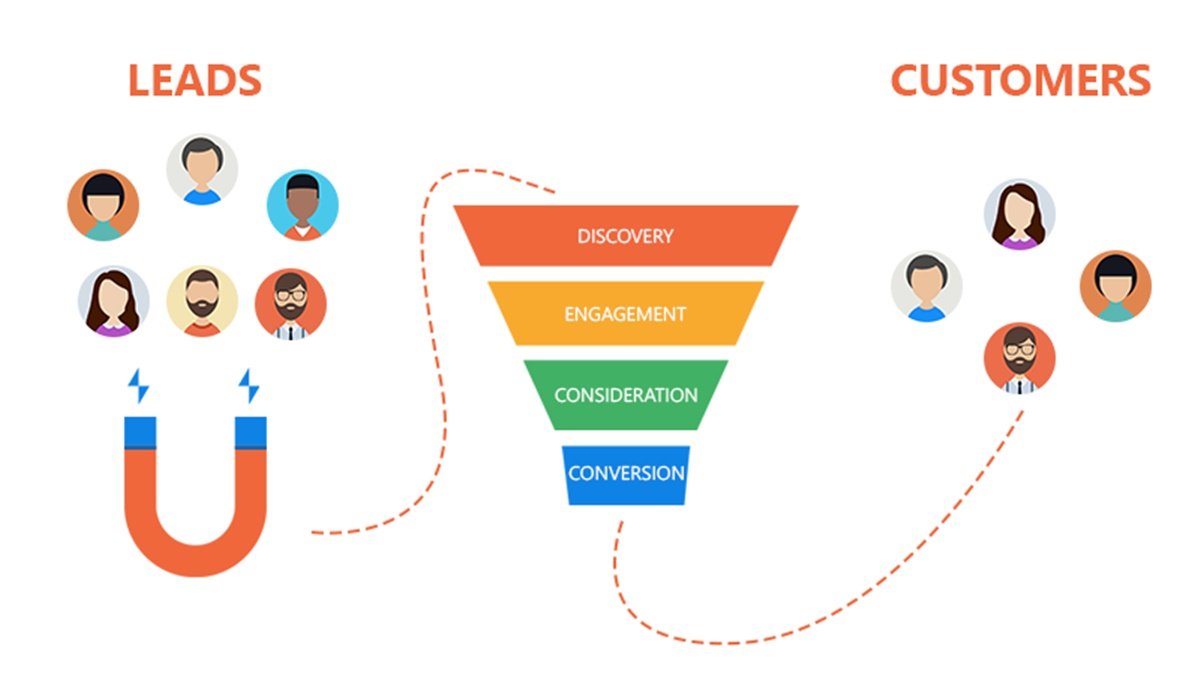 4) How do you Study Converting Leads into Sales Courses?
Online education expedites the learning process. They give pupils a firm basis for studying the fundamentals before going on to more sophisticated operations. It offers both the student and the organization flexibility, convenience, and cost-effectiveness.
In recent years, the certification's popularity has grown as a result of its expanding relevance across sectors and its ability to aid businesses of all kinds, from tiny startups to big enterprises.
Certification in this Business offers Several Advantages.
These include greater revenue and job possibilities, as well as enhanced work chances for those who possess the certification.
YouTube videos are a valuable resource for acquiring new skills and increasing mental understanding. Everything observed in motion is straightforward to comprehend. Due to the vast number of YouTube users, instructional information is abundant and easily available.
5) How does one Acquire this Skill?
LearnVern is the most authoritative source of information on this issue. Experienced industry specialists supply extensive video courses. You will begin with the fundamentals and graduate to more complex concepts. Everything is precisely structured and offers a thorough comprehension of the topic. This employment will be simpler to get after graduation.
Moreover, you receive lifetime access to a forum and other training resources. Thousands of students have attended the online course offered by LearnVern to understand this subject fast! The most popular programming language may be learned in minutes with the aid of LearnVern's interesting and dynamic daily courses.
Conclusion:
Those who are motivated and willing to put in the time and effort required to become a professional in a lead generation may discover a lucrative and intriguing career path for themselves. The position of lead generation offers significant prospects for expansion.
As you gain experience in your job, you may be eligible for promotions to account manager, sales manager, inside sales, business development manager, strategic accounts manager, and their related senior positions such as director, vice president, etc., depending on the industry you work in.
As with any sales position, the work of a lead generation expert is packed with hurdles. But, the sooner you develop the appropriate skill set, the simpler it will be for you to succeed. It is also beneficial to have an awareness of other aspects of marketing and sales and assess how you can incorporate them to enhance your work.