To flourish your online jewelry business, you must prioritize product photography. Since customers can't touch or feel the product, they look at its image and make the buying decision. Therefore, presenting your products in the best light is your greatest bet.
However, despite capturing pictures with advanced cameras, retouching and enhancing jewelry images is crucial to:
Persuading customers
Boosting sales
Increasing brand value
Enhancing marketing campaigns
Gaining a competitive edge
Converting viewers and so on.
Top 5 Editing Techniques in 2022:
We have enlisted the top 5 jewelry retouching techniques to help you make the most of your online business. Whether it's a ring, a pair of earrings, a necklace, or a pendant, utilize these techniques to create high-quality, visually-appealing images. Let's take a look.
1) Brightness and Contrast Adjustment
One of the most basic yet essential techniques is adjusting the brightness and contrast to attain an even exposure throughout the image. Increasing the brightness can enhance the product's appearance and visibility if the image is underexposed. On the other hand, if the picture is overexposed, then the brightness must be reduced.
In both scenarios, the goal is to amplify the product's appearance and overall look. In addition, this technique sets the base for subsequent edits. Therefore, it must be carried out subtly.
2) Color Correction
Once the image is captured, you must ensure the colors of the accessory are up to the mark. In other words, check whether the colors look realistic and per your expectations. Most of the time, jewelry images appear dull and unhappy after being shot. Therefore, it is essential to color-correct them by adjusting hues and saturation.
In both images, the product is the same, i.e., a ring, but it looks completely different—the reason is color correction and enhancement. As a result, the image on the left seems dark and dull, whereas the one on the right is well-lit, perfectly colored, and appealing to the eyes.
While hue alters the image's colorization, saturation intensifies the color. For instance, when the saturation of a color is increased, it seems bright, and vice versa. Both hue and saturation work parallelly and change the jewelry's color for a better, more attractive, and intensified look.
3) Background Removal
Most of the time, the background doesn't match the product, is disarranged, or is poorly lit. This, in turn, diverts the focus from the object and hampers the overall image quality. For instance, consider the below image.

Did you see any difference? It lies in the background. The ring is neither clearly visible nor looks appealing in the image on the left. However, as soon as the background is fixed, the ring seems radiant, attractive, and magnificent. Therefore, changing or removing the background is a critical editing technique that must be implemented for visually exciting pictures.
However, background removal requires precision and, thus, must be performed under expert supervision. Leverage jewelry photo retouching services from a reputed vendor with ample experience and expertise. They use advanced tools and techniques to transform your jewelry images and deliver the desired result for maximum customer engagement.
4) Shadow Creation
The ultimate goal of retouching jewelry images is to make them appealing. Shadow creation is yet another technique to intensify your jewelry pieces' and engage your audience with attractive photos. Among other jewelry retouching techniques, shadow creation gives you unique and realistic images by enhancing the natural shadow of the product.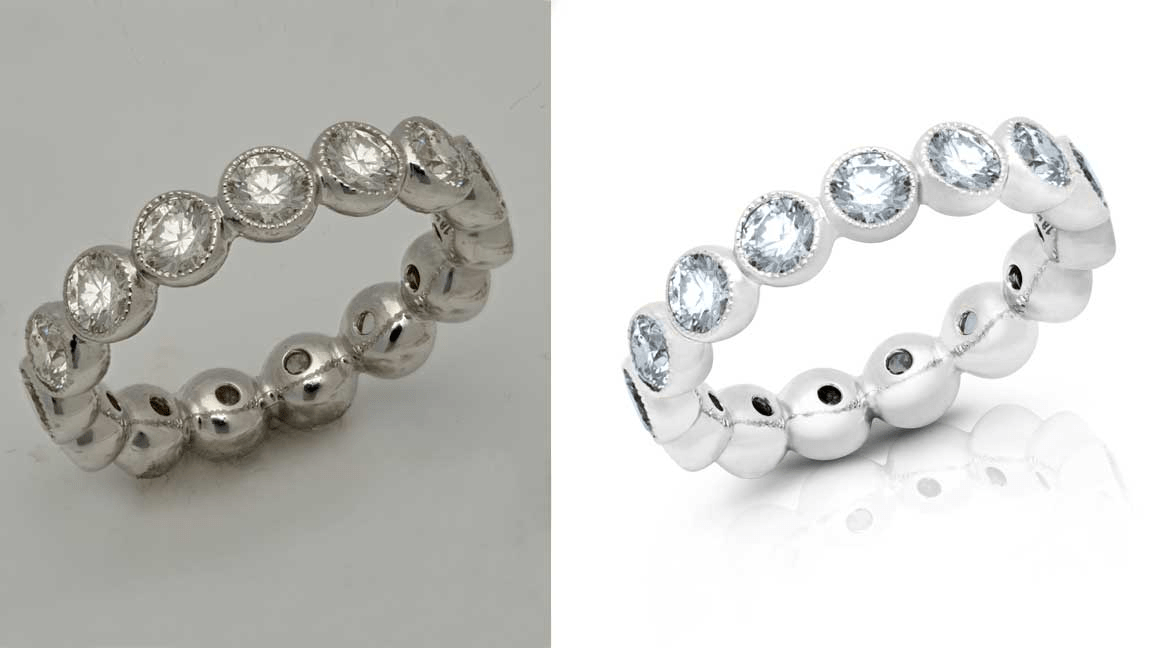 Though everything has a natural shadow, bad or low lighting can stow away the shadow. Even if it is visible, it might not reflect properly. Photo editors add reflection, drop shadow, or natural shadow depending on the requirements to beautify and give customers a clear, authentic look.
5) Spot Healing
Irrespective of the jewelry type, dust, debris, spots, and other similar imperfections get captured during the shoot. Resultantly, the final photographs aren't up-to-the-mark.
Spot healing corrects and fixes the photographs by removing all the flaws, including scratches, fingerprints, dust, blemishes, stains, molds, or the camera's reflection. This restores the original image and accessory while bringing forward a clean, elegant, and persuasive image.
Tools like PhotoShop, Lightroom, etc., provide diverse functionalities to fix errors and enhance the overall look of the image. A jewelry photo editing company with a skilled team of photo editors and designers can help you attain your desired output at minimum costs.
Additional Jewelry Retouching Techniques:
Clipping and masking
Cropping and Resizing
Adding filter
Adjusting sharpness
Image cleaning
Benefits of Jewelry Image Editing for Your Business
Have you ever paused scrolling on seeing a catchy product, whether you want to buy it or not? Yes, right? Let's consider another scenario where you want to buy a product, say a shirt, but you can't find a good picture of the shirt, so you abandon your purchase.
Such is the power of attractive, high-quality images, and jewelry is no different. So whether you deal in rings, necklaces, toe rings, or an entire range of jewelry, you must post clear, appealing, engaging product images on your website or any other platform you wish to promote your product.
Image editing and retouching enhance your product for a better and more detailed view. When it comes to jewelry, the need for photo editing intensifies since accessories are expensive, and shoppers want to be 100% sure before making the final buying decision. Though several other factors are responsible for sales, images play a major role and thus must be top-grade for the best results.
Now that you are acquainted with the top jewelry photo retouching techniques, it's time to highlight some popular editing tools to reform your images to avail of maximum benefits.
Top Photo Editing Software for Jewelry Retouching
To help you make the most of your jewelry images, here's a list of some of the most sought-after editing software and applications:
Adobe Photoshop
Adobe Lightroom
Skylum Luminar
Corel Paintshop Pro
ACDSee
Prisma and several others.
When used wisely, these tools can augment your jewelry images in every aspect. However, you must be well-versed with all the tools and functionalities to make the best use of the software or app you choose. Also, you must upgrade it from time-to-time, or buy add-ons as per your requirements.
Last Words:
It's better to outsource jewelry photo retouching services to an agency with relevant expertise and experience. In addition to world-class photo editing services, experts give you access to a skilled team of editors and advanced tools at affordable prices. Thus, you can get high-end jewelry images without investing much time and money.
Now, It's time to get started. Transform your jewelry images for better business opportunities, growth, and reputation.