Starting an online business can be daunting, especially if you are beginning in the world of eCommerce and e-businesses. On the bright side, there are tons of different eCommerce platforms to choose from. Each with its strengths and weaknesses, but it can be hard to analyze where to start.
As per Statista, the top eCommerce platforms include Squarespace, WooCommerce, Wixstores, Shopify, etc. the infographic below lists the leading eCommerce platforms worldwide.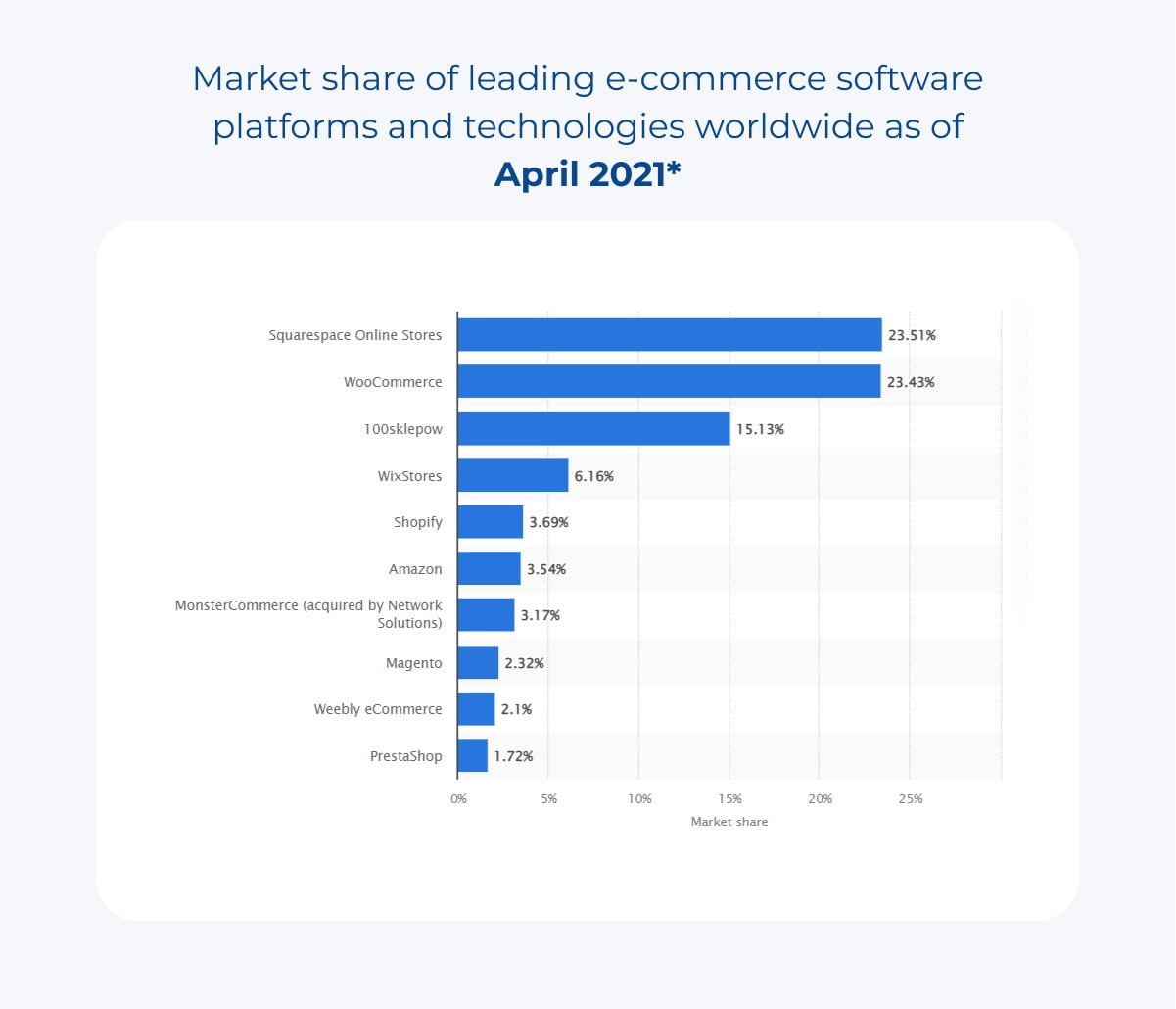 Source: Statista – Top eCommerce Platforms
The infographic above must have given you insights into business choices. However, what exactly decides an excellent platform for launching your business!
Well, there are tons of parameters that matter, but the one that you must have includes the following:
The open-source platform means you can get support from the community and experts.
Easy installation and easy configuration.
The customizable design allows users to have a variety of themes and templates.
SEO friendly, which helps your online store rank higher on search engines like Google.
Integration with multiple social media channels such as Facebook, Twitter, Instagram, etc., allows customers to share their experiences on social media platforms. It also enables customers to make payments through social media accounts.
Multiple languages are supported, including English, French, German, etc., making it easier for your business to expand globally.
Below are the additional 3 eCommerce platforms that you need to know about!
Yo!Kart: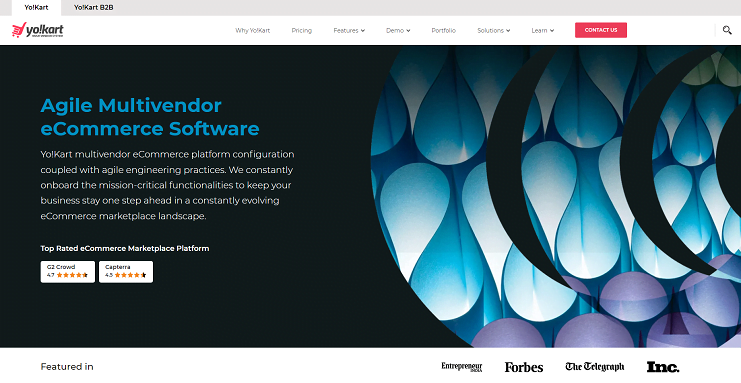 Yo!Kart is a leading marketplace software to power scalable multivendor websites like Amazon or Etsy. Unlike SaaS-based solutions, Yo!Kart can help you launch online marketplaces without using external plugins as well as add-ons. It hosts multiple sellers to sell to their customers, while the website is managed by an intermediary admin assigned by the marketplace owner.
The versatile solution comes with an intuitive UI/UX and result-driven features for the buyers and the sellers like personalized individual storefronts, abandoned cart management, advanced analytics, marketing features, and a lot more.
Moreover, multiple pre-integrated eCommerce APIs and payment gateways ensure ease of running an eCommerce business. Significantly, the self-hosted solution is license-based and is available with a one-time payment. The license is part of bundled packages with prices starting from US $999 onwards.
The packages also include source-code ownership, up to 1-year of free technical support, digital marketing services, and more. A key USP of Yo!Kart is the support of an in-house Agile team for end-to-end customizations. This makes it equally suitable for SMBs and enterprises.
Additionally, for B2B eCommerce business models, they have an exclusive B2B eCommerce platform under the brand name Yo!Kart B2B. Loaded with B2B specific features, the pricing of this robust B2B solution starts from US $1499.
Yo!Rent:
Yo!Rent online rental software is a next-gen eCommerce platform with advanced features for different use-cases. Not only Yo!Rent assists entrepreneurs in launching all-inclusive eCommerce marketplaces. Also, it helps them resolve day-to-day challenges. With multi-currency support and multilingual functionality, Yo!Rent makes it easy to target non-native speakers.
Yo!Rent's unlimited transactions, listing, and user profiles also make it highly useful in the long run. To ensure continuity in your business operations, Yo!Rent comes with one year of free technical support.
Some notable features of Yo!Rent are order management, inventory management, tax management, returns and cancellations, discount coupon management, product comparison, as well as an advanced booking calendar. Lastly, unlike SaaS solutions, Yo!Rent is available at a one-time cost.
Growcer: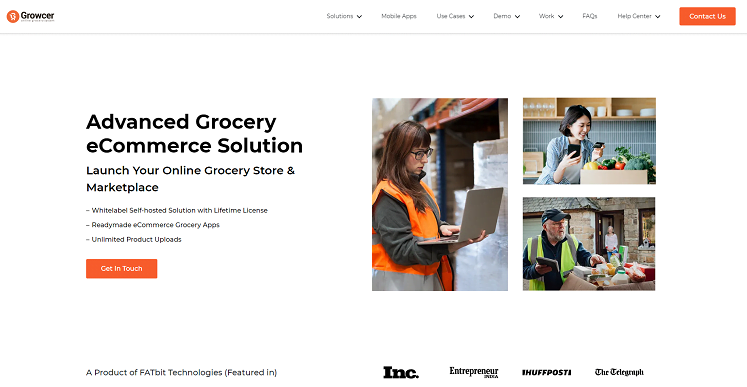 Growcer is a leading eCommerce platform that is developed by FATbit Technologies. It is built with state-of-the-art technology and comes equipped with robust and intuitive mobile apps for buyers as well as delivery staff (Android and iOS both).
Being fully customizable, Growcer can cater to several niches apart from groceries like pharmacy, liquor/wine, pet supplies, and more. Marketplaces such as Instacart, Good Eggs, GoPuff, DoorDash, and so on can be built with Growcer.
It is a self-hosted solution with PWA and hyperlocal functionality. There is also a dedicated admin panel that provides complete control to manage each aspect of the eCommerce platform. Growcer is architected tastefully to give a good user experience by encapsulating several user-centric features.
Additionally, the eCommerce platform is a complete white label solution that offers lifetime ownership. There are no recurring charges, just one-time payments, and also 12 months of free technical support is provided.
What are the best eCommerce Platforms for Small Businesses?
Based on the above-listed parameters, we have gathered 10+ of the most popular eCommerce platforms in one list. Also, you can avail the information you need without doing all the research yourself!
Squarespace Online Stores
WooCommerce
WixStores
Shopify
Magento
Weebly eCommerce
Prestashop
Ecwid
BigCommerce
Sellfy
Odoo
Zyro
Let's explore all these eCommerce platforms in detail.
1) Squarespace Online Stores – Fully Customizable Platform

Squarespace Online Stores is easy to use, highly flexible, as well as has a clean and professional look. It is a fully customizable platform, which sets it apart from the others. A single package is an attractive option, but there are no advanced features like 3rd party integrations, and you need to pay more if you want to sell certain types of products.
The chief benefits of using Squarespace Online Stores are its simplicity as well as ease of use. It is one platform that you can be sure your customers will find easy to use. You can also be sure that you will have no trouble with your site since a complete user manual is available. Also, all changes to your site are instant, so you don't need to wait for a tech team to update it.
It has an intuitive drag-and-drop interface and a flexible product editor that allows you to customize products with images, videos, descriptions, and more. One imposing feature is that Squarespace has automated SEO tools built into its software, which optimize content based on keywords used by search engines. It provides real-time analytics reports as well as customer support via email or live chat.
Top Benefits of Using Squarespace Online Stores:
Flexible product variants
Sell unlimited products
Advanced inventory management
Suitable for digital & physical products.
Advance automatic emailing
Configures sales taxes
2) WooCommerce – Thousands of Themes
It's no surprise to see WooCommerce on the list of best eCommerce platforms. It offers the most popular plugins for WordPress. Thanks to its wide range of extensions as well as themes, you can set up a fully functional store with a few clicks.
Additionally, you can access invaluable features such as compatibility with all major payment gateways and shipping services, accessible data migration from other platforms, etc. You can also hire eCommerce developers to ensure greater store customization while launching your business.
The amazing plugin also comes with custom templates created by professional designers, product fulfillment by Amazon, or even Printful (additional fees apply). WooCommerce provides geolocation services that allow you to create coupons based on users' locations.
Top Benefits of Using WooCommerce:
Free Plugin
Advanced control
Thousands of themes
Multiple features available
High security
Fast loading speed
3) WixStores – End-to-End Order Fulfillment
WixStores is a popular eCommerce platform that allows you to build your online store in no time. While it fails to offer as many features as some of its competitors, it does provide an easy-to-use interface and great functionality. The website builder behind WixStores also provides other services, such as web hosting as well as domain registration. So, you can easily handle all of your online needs from one place.
However, the biggest drawback with WixStores is that it's not designed specifically for eCommerce. As a result, some users find themselves limited in setting up advanced features such as fulfillment and order tracking.
Top Benefits of Using WixStores:
Highly scalable
Sales across multiple channels
Secure online payments
Manage order fulfillment end-to-end
Advanced marketing tools
4) Shopify – Easy to Set Up & Use
Shopify is easy to use with high-quality, customizable templates. If you are looking to get up and running quickly and effortlessly, look no further than Shopify. One unique advantage Shopify has over all other small business platforms is its integration with Stripe.
Learn More:-How To Hire A Shopify Developer For Shopify Services?
Stripe is a notable payment processor that allows merchants to accept credit card payments without any additional hardware or software. It means fewer hoops to jump through when getting started.
With a pricing model designed for small businesses, Shopify truly is one of the best options on our list. It has a low barrier to entry, but it provides value far beyond what competitors can offer.
Top Benefits of Using Shopify:
Quick & easy to set up & use
Zero tech worries
Secured Platform
24/7 Customer Support
Advance SEO tools
Multiple marketing tools
5) Magento – Flexible CMS
Magento is one of the top 10 eCommerce platforms used by business stores. Even with its complexity and extensive features, it is suitable for mid-sized enterprises, large businesses, as well as corporations. With many add-ons, Magento is a great solution to start an online store quickly.
Magento comes with multiple features to create a custom and professional website. You can also choose multiple free and paid extensions, which you can easily integrate into your store. It has some limitations, but it is one of the top 10 eCommerce platforms used by business stores.
The main limitation of Magento is its complexity. You might find it challenging to use all features of the Magento platform. This platform is not user-friendly; hence, only experienced professionals should use it. In addition, you need to have good knowledge about coding because, without it, there will be no way for you to customize your site as per your needs and requirements.
Top Benefits of Using Magento:
SEO-friendly
Mobile-friendly
Faster online store
Easily customizable
Flexible CMS
Third-Party Integration
6) Weebly eCommerce – Easier than ever interface
Weebly eCommerce, an affordable website solution for business owners as well as entrepreneurs, focuses on creating easy-to-use templates that are fast to load on any device, from tablets to desktop computers. Weebly's website builder has been touted as one of the fastest website builders.
You can also use the drag-and-drop interface on mobile devices, which gives business owners more flexibility when setting up their website and editing pages. It is especially evident if you use a tablet or smartphone instead of a laptop.
Accessing your website from any device is critical when you have customers scattered across multiple regions, time zones, or countries!
Top Benefits of Using Weebly eCommerce:
Fully integrated website
Advance dashboard
Upgraded look & feel
Automated emails
Easier than ever interface
7) Prestashop – Multiple-currency pricing
Prestashop is an open-source shopping cart solution that you can use to sell your products online. It allows merchants to set up multiple-currency pricing, sales tax rules, as well as shipping options for their customers. Prestashop also includes features to help your business grow.
The software makes it easy to add user accounts. It offers a simple interface that lets business owners keep track of inventory levels, perform basic marketing tasks, as well as manage orders from their desktop or mobile device. Prestashop was designed for new business owners and is free to download and use.
Top Benefits of Using Prestashop:
Easy to install
User-friendly
Demographic assistance
Budget-friendly
Portability
High on functionality
8) Ecwid – Multiple payment options
One of the top eCommerce platforms for small businesses, Ecwid offers a suite of tools that makes setting up your store easy. Some highlights include responsive design, flexible shipping options, and integrations with online payment processors. If you are looking to get started quickly, Ecwid is worth considering.
It is undoubtedly one of the best eCommerce platforms for small businesses because it's easy to use. Moreover, with Ecwid, you can sell products on your website or on marketplaces like Amazon and eBay. It's also easy to set up an online store through a social media account like Facebook or Instagram.
You don't require any coding to get started. Notably, you can customize every aspect of your store, from colors and fonts to product descriptions as well as shipping options. However, if you are uncomfortable doing that yourself, tons of pre-made templates will help make your website look great.
Also, it is an excellent option if you want to get a professional-looking online store quickly without hiring someone else to do it for you.
Top Benefits of Using Ecwid:
Affordable solution
Usable on existing site
Outstanding support
Multiple payment options
Secure service
9) BigCommerce – Product Syndication
Counted among the renowned eCommerce platforms, BigCommerce makes it easy to launch an online store. It has a clean, modern UI that considers mobile commerce and has tons of features like payment options as well as shipping integrations. You can sell anything on your site, not just products but also downloads and memberships.
There are even some advanced features you won't find elsewhere, like product bundling, abandoned cart recovery emails, and page-level discounts. Like WooCommerce, there is a lot of flexibility here, with either a free or paid plan available depending on your business needs. They also have powerful shipping features that rival Shopify below.
Top Benefits of Using BigCommerce:
Mobile friendly
Product syndication
Customer loyalty
Easily manage returns
Shipping providers
10) Sellfy – Smooth Shopping Cart Integration
An up-and-coming platform with a heavy focus on flexibility as well as ease of use, Sellfy is popular among entrepreneurs looking to start their online store and build their brand. Sellfy offers everything you need to start as an intuitive platform, including professional design templates, simple shopping cart integration, etc.
It also comes with a range of integrations that allow you to sell your products on other platforms such as eBay or Facebook. If you are looking for a flexible platform that will enable you to grow as your business grows, Sellfy might be just what you are looking for.
Top Benefits of Using Sellfy:
Intuitive platform
Professional design templates
Simple shopping cart integration
High flexibility
Social media integration
11) Odoo – Advanced Inventory Management
Developed by Fabien Pinckaers, Odoo is a popular choice among many small businesses. While it offers a robust toolset, Odoo has been criticized for its steep learning curve. Still, some people prefer its flexibility and range of features to other platforms.
Notably, Odoo comes with many features, including a point-of-sale system and inventory management. The company also offers an open-source version, which is free to use.
Top Benefits of Using Odoo:
Extensible architecture
High customization
Open-source version
Latest technology
Easy to integrate
12) Zyro
Zyro does not require a web host or any technical know-how to get started. All that is necessary is to create an account and choose a suitable package. Also, you can set up a professional website using hundreds of templates and edit them yourself.
As with most other DIY platforms, Zyro's plans include all required upgrades and add-ons with no hidden fees! You can also add products, customize shipping and payment options, or even build a mobile version if needed.
Top Benefits of Using Zyro:
Lower operational costs
Easy to optimize
Multiple add-ons
Intuitive interface
Multiple upgrades
Over to You!
Choosing the best platform involves analyzing the company's needs with your expertise and experience. If you are new to online business, it is a good idea to start with something with a lot of support or take help from the eCommerce website design India.
If you are an experienced entrepreneur, you might want to try something more cutting-edge. Either way, there are plenty of platforms that can help your business succeed. We hope this article allows you to choose the best platform to help your business get off to a great start.