Looking for an app that is ready to launch and helps you to transport your ride-sharing business towards the path of success? Read this article to know how embracing Uber clone app development will support you in this era. In general, Apps have taken the world by storm. They have enhanced business visibility and have also greatly affected the lives of people at large.
Every single requirement of a person is fulfilled through an app, starting from food to taxi. Especially thanks to the presence of taxi apps like Uber, ride-sharing and hailing experiences at large have gotten quite convenient. The app gives the customers easy access to get easy rides simply through a few taps they make. All these factors have led to many new ventures adopting and ultimately buildup a similar Uber-like app.
However, it is important to note that starting a business-like Uber demands the analysis of a large array of factors. One of them is the business model, the features that make the solution a hit, and the strategies they adopt to accelerate their success.
To make this easy for you to understand, we are writing this article for you. We are sure after you complete reading it, you will be better trained in the ways you can go about building an app that helps your taxi business drive maximum value. So, without much ado, let's begin.
Reasons for the Popularity of Uber
Founded in 2009, Uber revolutionized the way rides were provided to riders, apart from supporting drivers as well in receiving many new job opportunities. In addition, it saved time for riders when they were on the lookout for rides and allowed the drivers to work as per their flexibility, meaning they got the flexibility to work part-time, full-time, and so on.
In turn, all these factors gave way to the tech giant becoming a flag bearer for new ride-sharing businesses to starting a business-like Uber. It is important to note that before setting out this task, you first understand the Uber business model.
Image Source: excellentwebworld.com
Now, we explain this in more detail in the lines below.
Understanding the Uber Business Model
This image depicts the overall functioning of Uber and the strategies it adopted, which ultimately contributed to its success. In the lines below, we will explain this in added detail.
The Uber business model is also known as the multi-sided platform business model. This is because it provides an ease in connecting the driver and the rider seamlessly to one another. This makes it easy for the latter to get access to convenient rides and the former to get a vast array of ride requests.
This, thereupon, gives convenience to the ride-sharing giant to earn a good amount of revenue from the booking requests they receive at large.
All these elements present in the business model have been responsible for new ride-sharing businesses to teach such a solution so that they can be able to develop Uber clone app to drive maximum value.
How to Successfully Buildup a Similar Uber App?
In the lines below, we enlist some steps that you can follow for starting a business-like Uber that will help you to attract maximum customers. So, let's begin.
Perform a Thorough Requirement Analysis
Being the first step, this is also quite a crucial one indeed. It encompasses understanding the customer requirements, their interaction behavior with similar apps, and so on. By understanding this, you can get a brief idea of the elements that would add value to your ride-sharing venture.
Specify the USP of Your Uber-like App
This is another area you need to consider when setting out to start a taxi business like Uber. It includes understanding the reason/reasons why your business needs a similar solution; and the advantages that it will get out of the end solution.
Identify the Features You Want to Add
Uber includes some unique features that make rides convenient for the rider and gives comfort to the driver as well as providing unique ride experiences. Therefore, when you are setting out to create a similar solution, it becomes necessary you examine the features that would enhance its overall value.
You can add features such as:
Fare Estimate
Select Car Type
Waiting Notification
All these features will allow the rider and driver to make their ride experience at large quite convenient. However, we need to add here that when you put your finances or invest in your taxi app business, you obviously do not wish to spend too much time or money on this task. This is because you want your customers to know about your services as soon as possible.
Hence, if you are a ride-sharing venture that is stepping its foot into this competitive digital world of apps, the best way to achieve maximum success is by embracing Uber clone app development. It will help you get access to a solution that is ready to launch and market side-by-side, apart from helping you earn considerable profits right from Day 1.
We help you gain insight here into the other reasons why you need the solution and the overall cost you would have to incur for developing it. This includes the determinants that help examine the budget more easily.
Reasons Why Your New Ride-Sharing Venture Requires Uber Clone App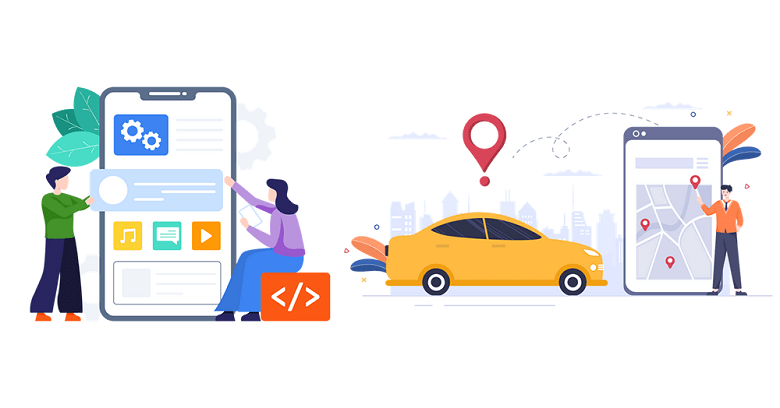 The Uber clone app is basically a ready-to-launch solution that is built using the responsive and customizable Uber clone app script. This makes it easy for them to modify the solution as per their future business requirements; and have it run seamlessly across different platforms, like the web and mobile. We explain the importance of incorporating an Uber clone app for your ride-sharing business in the lines below.
All these factors thereupon make it recommendable to embrace Uber clone app development. Doing so will endow your new ride-sharing venture with the benefits listed below.
Get access to an app that is responsive and editable, meaning it is easy to run across multiple platforms; apart from being easy to edit as well as per different business requirements
Ensure a quick app launch as a result of the solution following the protocols that drive success for the app
Make it easy for riders and drivers alike to get access to receiving and providing seamless ride-sharing experiences from and to one another.
Looking at these reasons, it becomes clear that you can innovate ride-sharing experiences at large with an app like Uber. However, it is necessary that regardless of the knowledge you have of the advantages that the Uber clone app has, you also be aware of the cost of performing this task. It is equally important that you know the areas, which will make it easy for you to examine the overall budget.
How to Examine the Cost of Developing an Uber Clone App?
With apps getting launched every hour and second. Therefore, it becomes necessary that new ventures build a solution driving maximum value for their venture. This makes it essential to adopt a ready-to-launch solution.
Also known as clone apps, they will be launched at an altogether fast pace and will not cost much. However, it is important to understand the overall budget that gets allocated during Uber clone app development.
To perform this task, you need to examine the areas listed below. This will help you to allocate your budget appropriately.
Examine the platforms where you will launch the solution.
The design you will include enhances the app's appearance.
The number of third-party APIs you include within the solution.
Tech stack you include as it helps save on costs tremendously in the future.
Apart from these areas, when you want to examine the cost of developing a clone app like Uber, it is equally recommendable to examine the development method you would adopt. We particularly recommend cross-platform app development as it saves on budget tremendously.
Key Takeaways:
Building an app from scratch will consume enormous finances and time for your new venture. Thus, how about you include the Uber clone app? Get in touch with an Uber clone app development company to do this. With the experience they possess in features that make ride-sharing apps unique and the required cost, they will help you get business-ready as quickly as possible.