In 2010, the eCommerce industry made $186 billion in sales. In 2017 just seven years later, the industry made over $2.3 trillion. Today, more and more consumers are buying things online than ever before.
Since the start of the pandemic, eCommerce has already got a big boost. If you are wondering, how can I increase my eCommerce sales? You are not alone. The COVID-19 pandemic has brought a rise in online orders, and eCommerce sales are projected to grow by around $5 trillion in 2022.
This has also caused a surge of new eCommerce businesses. So, to stand out from the competition, you must implement the best marketing strategies.
Here are the latest statistics for eCommerce sales growth by region: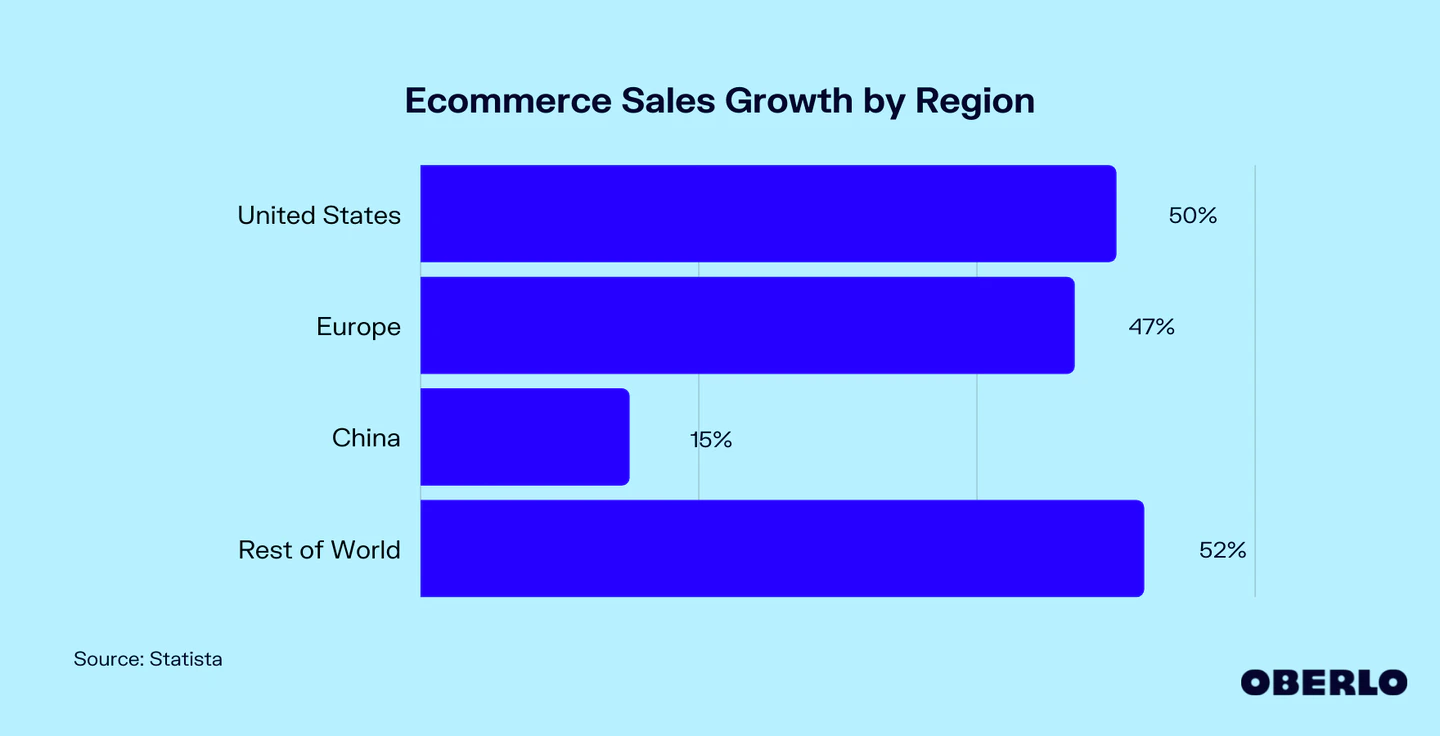 Let's take a closer look at what are 7 easy ways to increase your eCommerce sales in 2022.
7 Best Ways to Increase Your eCommerce Sales
If you want to grow your eCommerce business in 2022 and beyond, then there are a few strategies, you can follow to make sure your business is successful:
1) Be Authentic
This may be a no-brainer for some, but it's worth repeating: you are who you are, and your customers know it. Don't try to be someone else or change the way you do things just because that's what someone told you to do in order to make more sales.
Your customers will appreciate your authenticity above all else, so don't hide behind any façades or pretenses. Just keep doing what makes sense for your business. Don't change course unless something truly dramatic happens that requires an adjustment of strategy or direction.
2) Improve Website Performance
One of the key answers to your question "How to increase eCommerce sales" is "Your website". It is the foundation for boosting your sales. To ensure your website visitors have the best shopping and customer experience; you have to optimize your site speed and improve website performance.
If your website takes much time to load or is down, you will likely record a high bounce rate and potentially miss customers. So, make sure your site has a faster loading page because users are most likely to leave a webpage if it takes more than three to five seconds to load.
3) Offer Exceptional Customer Service
Customers are more like to make an online purchase from brands that provide better customer service and are available for them to solve their queries efficiently. That is why your eCommerce store must offer your customers effective and exceptional customer service.
Add Live Chat or Support Chat option to your website.
Give answers to most of the questions asked by customers and streamline your sales process.
Reply to your customers immediately in case of complaints via email, and send personalized email messages to your customers to improve the shopping experience.
Use 24/7 phone support to build the trust factor for your eCommerce store.
4) Show off Reviews, Feedback, and Testimonials
According to fan and fuel, 97% of shoppers say product reviews influence their purchase decisions. Apart from building customer trust with your brand, it's also imperative that you show off reviews, testimonials, and other customers' feedback on your store. It's a powerful way to show off your company's performance and make customers trust your brand and the quality of service you offer.
To establish your brand's social proof, you can even upload video testimonials and case studies on your website. You can even encourage your customers to post product reviews on your website.
5) Offer Free Shipping, But Be Smart About it.
Free shipping is a great way to attract customers, but it can be expensive. If you are planning to offer free shipping, you need to figure out how your business will make up for the loss of revenue from each sale.
Here are some ways:
Increase prices on other items in order to absorb the cost of free shipping.
Offer other incentives such as discounts or coupons in exchange for shopping at your store instead of another retailer's if they don't offer free shipping.
You can even run strategic promotions or offer seasonal discounts to attract more customers. You can use Magento 2 Banner Slider extension to highlight the offers with stunning and eye-catching banners to drive customer attention to such deals or promotions.
6) Create a Loyalty Program
You should create a loyalty program because it's the best way to keep your customers coming back and buying from you again and again.
Here are some tips on how to set up and run a successful loyalty program:
Start by creating a customer database. Having this information will help you identify repeat buyers so that you can reward them with special offers or discounts. You will also be able to analyze what types of products are purchased most often, which can help inform your product mix in the future.
After signing up, reward customers with points or cash back on their first purchase, and then ask them if they'd like to receive promotions via email or text message every time there's something new at your store (like special sales).
This way, they will feel appreciated as part of your community rather than just another number in an analytics report, and if they say yes! Remember that getting people on board means giving them something valuable right away. Make sure that whatever offer(s) are available meet their needs so they will actually want one!
7) Don't Forget to Measure Your ROI
It's important to measure your ROI. The best way to do this is by using Google Analytics, which will give you a wealth of information about how customers are interacting with your website.
Once you have the data, it's time to start improving the areas that are bringing in the most revenue. You may find that certain pages are more popular than others and need more exposure on social media or search engines.
Alternatively, it could be that visitors are not spending enough time browsing individual products before making a purchase. If so, investing in some product descriptions might help improve conversions!
Using these eCommerce growth tips can help you increase your eCommerce sales and grow your business.
Increase sales by being authentic
Improve website performance
Offer Exceptional Customer Service
Show off reviews, feedback, and testimonials
Provide free shipping and offer promotions
Create a loyalty program
Measure your ROI
Conclusion:
We hope these strategies answered your query on "how to increase sales on eCommerce websites", and now you can reach your target audience and secure more sales. Remember, it's up to you to get out there and sell!