Recently married and have your first Diwali party coming up? Well, you need to look fabulous and flaunt the prettiest Diwali hairstyles!
Every festival feels a little more special the first time after the wedding, so your hairstyle and clothes should be just as special to match the mood. Now that Diwali is approaching, we thought newlywed brides could benefit from some assistance in selecting their first Diwali hairstyles post-wedding.
Trendy Diwali Hairstyles
We have got you covered! Check out these 8 handpicked trendy Diwali hairstyles that will have your partner swooning over you all night.
1. Poised & Voluminous Fishtail Braid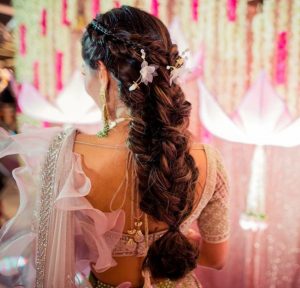 The over the shoulder voluminous fishtail braid is a gorgeous hairstyle option for you! Fishtail braids are a mermaid-inspired hairstyle that's both fun and stylish.
This fishtail braid hairstyle brings you and your gorgeous locks into sharp focus quickly. Just sail through your first Diwali with class and poise by aligning your stylish braids with some style and glamour.
Brides! Make a note of this trend right away. It's a current favorite among celebrities and trendsetters. It's all about making magic with your hair.
If you are getting this hairstyle done, ask for a trial, although you can easily recreate this look at the home and push your hair bangs back to create twists.
2. Signature Open Wavy Hairstyle
How can you say no to long, luscious open hair? This hairstyle is regal, romantic, and drool-worthy. Please understand us! Although there are many attractive trends around us, nothing takes the globe by storm quite like loose open hair.
Wash your hair and use a lightweight serum when 90% dry, then let it air dry. A wavy hairstyle will provide your long layered hair with a beautiful gloss.
Achieve volume by creating tight waves from ear length. The waves provide a fuller look, and the straight section accentuates your features.
Pair this open wavy hairstyle with a two-piece floral outfit with oversized sleeves to make your first Diwali a memorable one!
3. Double Trouble with Pull-Through Braids
You will be surprised how easy pull-through braids are to recreate, and they go great with both traditional & western outfits!
Pull-through braids are made with a ton of ponytails. It might seem a bit tricky for beginners, but they are pretty easy to create. The double pull-through braids add a ton of volume and make it look like you are wearing a crown.
Follow these steps to recreate these gorgeous pull-through braids for your first Diwali.
Detangle your hair and separate two sections near the front area. Tie the rest of your hair away.
Another way is to split your hair into two halves and bring a section around each side towards the front.
Spritz a texturizing spray to give your hair a bit of texture.
Begin on one side: tie your hair into a small ponytail and clip that section out of the way. Create another ponytail and unclip the first one.
Split the first ponytail into two parts and pull the bottom ponytail between the two sections.
Clip your first pull-through braids out of the way and create another ponytail. This time, including the two halves from the first ponytail to create another ponytail.
Now, take down the ponytail you clipped away, and you will have a top ponytail and bottom ponytail.
Again, split the top ponytail into two halves, pull the bottom ponytail through the hair, and clip it away.
Repeat this step until you reach behind the ear. Tie the last ponytail with an elastic band and follow the same four steps on the other side.
Once you finish creating the pull-through braids, untie the rest of your hair.
Use a curler to create beautiful waves to your hair.
Place your maang tikka between the braids as shown in the picture, add a floral hair accessory above your nape, and you are done!
4. Easy Twisted Half-Up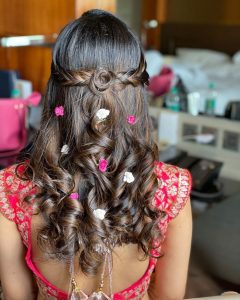 A twisted half-up hairstyle is chic, simple, and stylish, and this look proves it. Are you looking for a fresh hairstyle for Diwali for your medium-layered hair? Then look no further. The wavy hairstyle is breathtaking and keeps the layers out of your face.
Follow these steps to attain this easy twisted half-up hairstyle for your first Diwali as a bride.
Gently comb your hair.
Create a center part and tease near the crown and the front sections for volume.
Grab a handful of hair on each side and twist them simultaneously. Tie the sections together at the back.
If you have shorter layers towards the front, then use them to frame your face.
Apply heat protectant and create loose s-shaped waves throughout your hair. Complete the look with hairspray.
Use a maang tikka and place it between the center-part.
Whether you wear an off-shoulder top or a saree, you will be the prettiest bride at the Diwali party.
5. A Bun and Curtain Bangs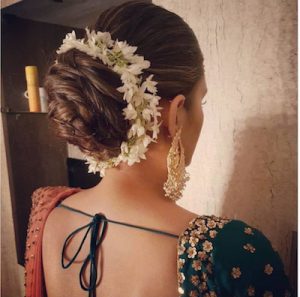 When it comes to having feminine beauty at its best, hair bangs are attractive and oh-so-carefree. This bun and curtain bangs hairstyle is the way to go if you want to wear your hair differently for your first Diwali as a newlywed bride.
Tease your hair before you tie it into a beautiful bun, and twist your curtain bangs to incorporate it into your bun hairstyle. Since the hairstyle is simple, add floral accessories or hair jewelry to achieve a romantic and classy look.
Relevant:- Give Your Loved Ones These 8 Awesome Diwali Gifts
Let your outfit and jewelry be the center of your look for your Diwali party, as your hairstyle brings your entire ensemble together.
6. Floral Bubble Ponytail
If you aren't enticed by the hairstyles mentioned above, how about this floral bubble ponytail hairstyle? There's something edgy yet chic about this floral bubble ponytail hairstyle.
Follow the simple steps to achieve this beautiful bubble ponytail hairstyle.
Part your hair into a deep side and use light hair oil or mousse to achieve that glossy look.
Take a tendril out on both sides and tie your hair into a low ponytail. Use a ponytail extension to achieve length and volume to your Diwali hairstyle.
Place a few floral hair ties down the length of your ponytail.
Gently tug between the hair ties to puff up the hair to help achieve the bubble effect.
Accessorize your look with traditional jewelry and wear a short sleeve top to show off your mehndi.
7. Multi-Twist Low Ponytail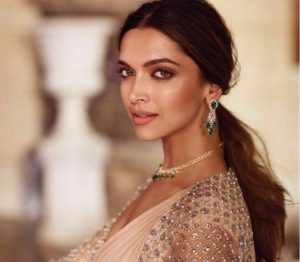 If you have long, gorgeous hair, this is a must-try for at least one of your Diwali parties. The curls towards the bottom give your hairstyle all the bounce it needs.
This multi-twist low ponytail hairstyle is effortless to recreate. Twist significant sections of your hair and tie them together into a low ponytail. Use a small curling barrel to create tiny curls to the length of your ponytail.
8. Let It Down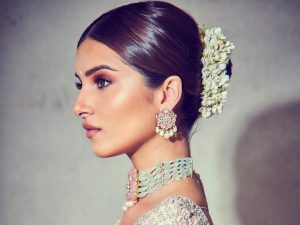 This relaxed hair is by far the simplest hairstyle on this Diwali list. The hairstyle consists of braid and twists with gorgeous loose waves that run down the waist. You can also achieve this look while wearing bang hair extensions!
These are the top 8 handpicked trendy hairstyles you need to wear during your first Diwali as a newlywed bride.
Use the steps mentioned to achieve pull-through braids or a floral bubble ponytail hairstyle. You also have the option to accessorize bun and twisted hairstyles to your liking. Best believe you can recreate these hairstyles with your long and medium layered hair.