Bandanas are back! The versatile bandana is a famous symbol of the '70s and '90s and adds a unique flair to every hairstyle and haircut. Whether you are wearing bun hairstyles or sporting wavy hairstyles, a bandana will instantly elevate your look. Moreover, a bandana is the perfect and stylish hair accessory that hides lousy hair days.
14 Alluring Bandana Wavy Hairstyles
Here are 14 alluring bandana wavy hairstyles that you need to wear during your vacation. These looks will leave a lasting impression on everyone near you.
1. Wavy Hair Tied In A Messy Bun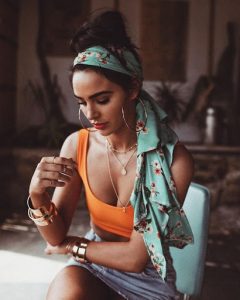 Wavy hair in a messy bun
Keep your wavy hair up in a messy bun and away from your face with a floral print bandana; you can also use a bright scarf to recreate this stunning vacation look.
This hairstyle is the best if you are going on a tropical vacation. The entire ensemble in this picture screams a fun and luxurious holiday. Pair the wavy bandana hairstyle with larger-than-life hoops, layered necklaces, bracelets, and a two-piece outfit.
2. Effortlessly Chic With Bangs And Bandana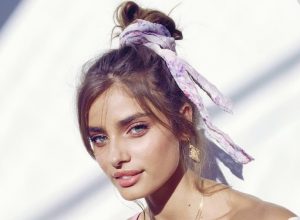 Effortlessly chic with bangs and bandana
Similar to the hairstyle mentioned above, this hairstyle radiates an effortless editorial look. There are various ways to wear a bandana, and this hairstyle with bangs is a great way to increase hair volume. Part your long bangs to frame your face and accentuate your features.
Wrap your bandana around your bun and pair it with an off-shoulder outfit for your vacation, and make jaws drop!
3. Low Bun And Bandana Hairstyle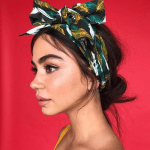 A low messy bun with bandana
This is another way to achieve an alluring bandana wavy hairstyle with your long wavy tresses. Tie your wavy hair into a low bun and wrap a bandana around the hairstyle to achieve the ultimate glamorous look.
4. Wavy Half Ponytail Hairstyle With Bandana 
A wavy half-ponytail hairstyle
This wavy half ponytail hairstyle with a bandana is a gorgeous way to style your hair for your vacation. Whether you are sightseeing or attending a local event, this hairstyle is a sure way to make you the center of attention.
The bandana conceals your hair tie, and the wavy mane adds a touch of bounce to your look. Pair the face with a denim collar shirt and shorts, and look like a star throughout the holiday.
5. An Effortless Ponytail Hairstyle With Floral Bandana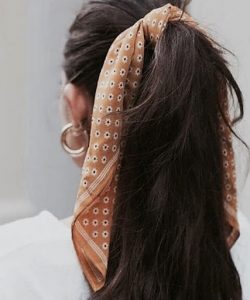 Flaunt your wavy hairstyle with a bandana
This effortless ponytail hairstyle with a floral bandana is another chic way to elevate your ponytail during your vacation.
Recreate the most popular holiday hairstyle by wrapping a floral bandana around your ponytail and pair the look with earrings or necklaces.
6. The Edgy Bandana Hairstyle For Wavy Hair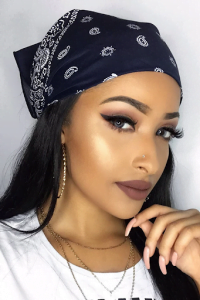 A popular trend from the past
This edgy bandana wavy hairstyle was a huge trend in the '70s, and the bandana style has made a comeback. Add a printed bandana to your gorgeous long wavy hair and transform your vacation look instantly.
It makes a more comprehensive statement than a basic headband and keeps your hair out of your face. At the same time, it's a terrific alternative for between washes because it hides oily roots and reduces the time you spend styling with your flat iron or curling wand.
Tip: Elevate your edgy look with earrings and necklaces and dark-toned lipstick.
7. Beach-Ready Bandana Wavy Hairstyle
Look beach-ready with your second-day hair.
Get beach-ready with your second-day hair with this beautiful hairstyle inspired by actress Kareena Kapoor. With all the activities planned for your vacation, it becomes a challenge to keep up with hair, and this hairstyle will save you and your second-day hair.
Roll a bright bandana up and make a bow on the side; this will keep your hair away from your face while providing a stylish beach-ready look.
8. A Low Ponytail With Bandana For Wavy Hair
Low ponytail with a leopard-print bandana
This low ponytail hairstyle with a bandana for wavy hair is a simple and fuss-free way to style your hair during your vacation.
Vacations are an ideal time to explore with different looks, and this hairstyle is no exception. Make a low ponytail with your hair and cover the hair tie with a leopard print bandana. Leave a few strands flowing on the sides to achieve a face-framing look.
9. An Elegant Bun Hairstyle With Bandana
Elegant bun with bounce, texture, and style
Make your color-treated hair stand out during your vacation with this gorgeous and elegant bun hairstyle with a bandana. Simple hairstyles have never been more straightforward!
This elegant bun hairstyle for wavy hair has texture, bounce, style, and glamorous color-treated hair. Use a curling wand to define your wavy hair and leave a few strands out for a face-framing look.
Tip: Choose a bandana that compliments your hair color for an effortlessly elegant look.
10. Half-Bun For Color-Treated Hair With Bandana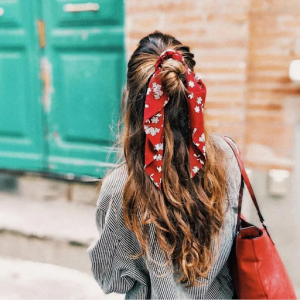 Chic half-bun hairstyle with hair extensions
Attain this laid-back half bun hairstyle with a bandana with your color-treated hair. Use clip-in hair extensions to achieve volume and length to your wavy hair.
Divide your hair into two and blow-dry upside down to create volume at the top section; tie your hair into a half bun and wrap the bandana over your bun.
11. Messy Top Bun Hairstyle For Wavy Hair With Bandana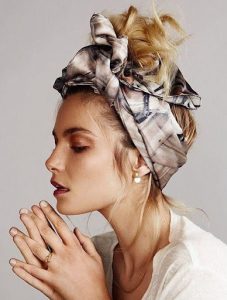 Messy high bun wrapped with a bandana
Are you looking for a quick hairstyle that will make you and your wavy hair stand out? Wrap a bandana around your hair and tie it in a high bun.
Don't you have time to style your hair? Add a bandana to your unruly top hairdo, and you're good to go. The hairstyle takes just minutes to put together and is perfect for a laid-back brunch date or day at the beach. You don't have to be very accurate because the messier the hair is, the better. It's also a fantastic alternative if you're going a few days without washing your hair or don't want to use heat on your locks.
12. Bandana For Short Wavy Hair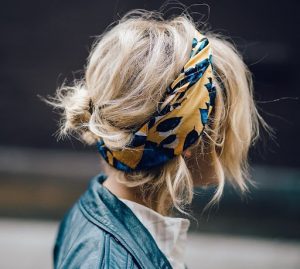 Short wavy hair stand out with this beautiful hairstyle
Bandana hairstyles are flexible, can be styled in many ways, and works for short hair. If you have short hair, then a handkerchief-style bandana is a great way to achieve a chic look.
It is a popular hairstyle from the '60s as the hairstyle provides a bohemian, laid-back vibe. Even when you are in between washes, this bandana hairstyle will make you stand out.
Tip: Tie the longer layers into a tiny bun and let the rest of your wavy hair flow effortlessly.
13. Loose Beach Wavy Hairstyle With Bandana
Gorgeous and alluring beach wavy hairstyle
Make your vacation an unforgettable one with this beautiful loose beach wavy hairstyle with a bandana. Spritz sea salt spray to activate your wavy texture and to keep them looking defined and effortless.
A bandana is the perfect hair accessory to sport with your wavy beach hair. It adds a unique and stylish touch to a simple hairstyle. Wear a bright, printed bandana for a tropical vacation or solid colors, depending on your destination and outfit.
Don't forget your sunscreen if you are on a tropical vacation!
14. Rihanna-Inspired Pineapple Hairstyle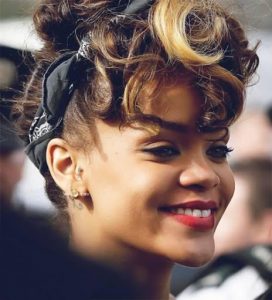 Rihanna-inspired pineapple hairstyle with a bandana
A decade after the banger We Found Love was released, people worldwide are still sporting Rihanna's pineapple hairstyle.
It is a beautiful and alluring hairstyle that you need to try with a bandana. Gather your hair forward and tie it into a top knot and wrap a bandana around it. Define your wavy hair with a curler and use it to achieve instant bangs.
These are 14 alluring bandana wavy hairstyles that you need to wear during your vacation and make a lasting impression wherever you go. You can also achieve most of the wavy hairstyles mentioned above with hair wigs.