Buying an electric scooter for young kids is all the rage right now since most millennial kids need a way to commute that's fun, safe, and easy. Electric scooters are the perfect option for being easy since all you need is a power button to turn it on and be on your way! If you are looking into purchasing an e scooter, you need to check off a list of things, ranging from safety equipment to durable construction.
Ensuring the safety of your child is important. Even if you have buying guides or safety gear that includes wrist guards, you need to make sure that you find the best electric scooters. That's because the scooter itself needs to be capable enough to be safe for your child and not put them in any kind of danger.
We have checked and analyzed many electric scooters supplied all around California, and here are the ones we think might be your best bet.
A11 Electric Scooter
The A11 electric scooter is one of the best electric scooters for kids in the market. Someone can drive this scooter as young as 8 years of age or by older kids around the age of 18. Weighing 40lbs, the specs on this scooter are incredible. It's the perfect weight for kids since it's neither too heavy nor too light but just enough weight for it to stay sturdy.
Speed levels
The A11 electric scooter comes with three different speed levels that would help keep the kids safe in case the top speed gets too much for them. The first level is the Eco mode at 9mphs. This helps save the battery life and extends your driving range. Now your kid can drive around for hours without worrying about the battery dying.
The moderate mode is at 12mphs, whereas the MPH Max Mode is 15mps. The max speed can be a lifesaver while you are in a hurry, but the option to choose a lower speed can be much safer for kids.
Disc Braking System
This scooter comes with a disc braking system rather than a hand brake and foot brakes, like the ones in a kick scooter. The disc braking system helps ensure that you get a smooth ride since many kids could have trouble with the traditional kick scooter brakes.
Apart from the highly responsive rear disc brake, this scooter also has LED display lights on the rear and an LED headlight on the front. The bright headlight ensures that the Los Angles electric scooters provide enough visibility at night for the kids to drive around safely.
Powerful Motor
The A11 electric scooter houses a 350W powerful motor that delivers 15 degrees of climbing capacity and a 220lb max weight that it can withstand. The twist throttle is at the perfect handlebar height for kids to activate the motor and make it go up to max speed.
This makes it the perfect kids' electric scooter that comes with 8.5 air-filled tires that make sure you are safe even when driving at maximum speed.
Shock Proof Tires
This scooter isn't only a smooth ride because of the powerful motor and the top speed it provides. The A11 electric scooter also has a front and rear-wheel drive with 8.5-inch tires. Unlike push scooters, you have the option of choosing between honeycomb wheels and air-filled tires for your kid's electric scooter; if you opt for the A11 electric scooter.
The honeycomb tires are shock-absorbing wheels that are resilient and don't require much maintenance. On the other hand, the air-filled tires offer you a smooth driving experience and make sure you glide through the small potholes and cracks on the road without any hindrance.
X4 Electric Scooter
One other electric scooter that's perfect for kids is the X4 electric scooter. It blends maximum comfort, easy storage, and max speed, making it the best electric scooter for kids. It's lightweight and amazing for compact storage whether the older kids need to slide it under the desk at work or the young kids need to carry it on the bus!
Adjustable Speed
The X4 electric scooter is considered one of the best electric scooters for kids younger than 15. Rather than a usual kick scooter that accelerates to dangerous speeds, the X4 electric scooter comes with three safely adjustable speed levels you can cater to your needs and demands.
The first eco speed that this scooter goes to is 9mph, with 15.5mph on the moderate mode and 18.6mph on the mph max speed. This way, not only can you be sure that you'll reach your destination on time, but young kids won't be stuck on a death speed even if they just want to go zip around the neighborhood.
Safety Lights
All kid's electric scooters need to have some sort of safety equipment installed to make sure that the scooter does not go zooming about and cause an accident to happen. Although children should always carry protective gear like kneepads and thumb throttle on them, you can't always rely on the safety gear to keep you secure during the night.
That's why the X4 electric scooter has a cruise mode with LED display lights that offer you a comfortable riding time even after the sun's down. Along with that, this scooter has added LED lights on the edges of the standing board of the scooter for extra safety.
Front Shock Absorber
Unlike a traditional kick scooter, this electric scooter has a front shock absorber with honeycomb tire designs that take the hit for you. The low gravity design paired with the suspension makes sure your ride is free of all bumps and cracks you may encounter on any terrain.
Dual Braking System
It is one of the best kids scooters because not only is this scooter's motor powerful enough to provide top speed, but it comes with a highly reliable braking system. Having only a rear foot brake can sometimes be difficult for a kid's electric scooter, like one in a kick scooter.
That is because kids might not be able to use a rear fender brake quick enough. This may cause an accident even if the kids are not driving at max speed. The X4 electric scooter consists of electronic brakes along with traditional brakes as well. This guarantees a safe stop even if you are on a rocky surface.
A3 Electric Scooter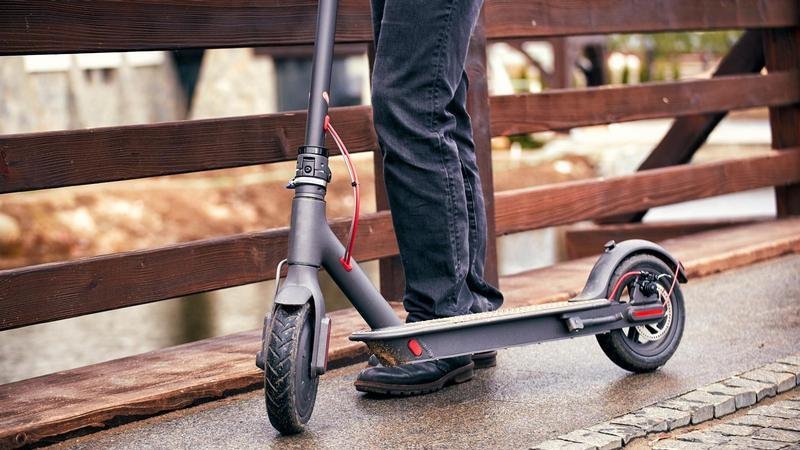 The A3 electric scooter is the perfect ride for anyone, even kids, looking to zoom around town comfortably and safely. With its high performance and 10-inch pneumatic tires, this electric scooter helps you glide through bumps and curbs in your way with efficiency.
Lithium Battery
Like the A3 scooter, most electric scooters use lithium battery technology to provide a better range, capacity, and max charge time. This helps achieve the max speed of the rear-wheel-drive and makes it better than other scooters, like the push scooters. The A3 electric scooter has a 15 Ah battery capacity with 7-9 hours of charging time. Meaning that you can get a good range before the battery dies.
This highly impacts the reach speeds and range that your scooter can go through in a single charge. That's why having a good battery in your electric scooter is important. The use of lithium batteries in electric scooters is also a much safer option since they contain less toxic metals, making them environmentally friendly.
Front Electronic Disc Brakes
The A3 electric scooter comes with a front electronic disc braking system that provides a strong braking system in both wet and dry weather. This makes it safe for kids to use in every weather.
The electric brake adds no extra weight to the vehicle and requires little to no maintenance. These brakes are easier to maintain and adjust. They also have excellent braking control making the electric scooter the perfect choice for children.
Fast Charging
Most children who want to buy an electric scooter are looking for a quick and easy commute and prefer a rapid charging scooter. Taking a lot of time to charge may end up with kids being impatient.
However, that is not the case with the A3 scooter. The A3 electric scooter offers fast charging that will only take 7-9 hours for a full charge and provide excellent mileage in a single charge. This way not only will you be able to use it a lot more but also you would be saving up on time too.