Are you concerned about your kid's excessive device usage and know how to turn off your kid's electronics without an argument? We will go over various approaches in this post on how you can manage your child's screen time without a disagreement.
Electronic gadgets are becoming an increasingly important aspect of contemporary life as the whole globe is driven by technology. Personal electronic gadgets, which were once bound to televisions and computers, now include tablets, iPad, smartphones, laptops, computers, and so on, all of which are portable and simple to use.
Many parents are concerned about how much time their kids spend on electronic gadgets. Parents often try to remotely lock the kid's phone without their knowledge, impose harsh rules, or even scold them to limit their device usage. However, this could lead to a rise of arguments, eventually impacting the parent-child relation.
So what are the best ways to convince your kids to turn off their electronic gadgets without an argument? Let's get started.
Kids and electronics
Kids spend hours in front of their cell phones or other gadgets using social media, playing games, or surfing other stuff on the internet. The Centers for Disease Control and Prevention estimates that children aged 8 to 18 spend 7.5 hours per day using their electronic gadgets. These data do not include time spent on studying and school-related tasks on electronic devices.
It is unlikely to expect kids not to use their cell phones, tablets, laptops, or PCs in this modern age. So, it is critical to implement device usage limitations for kids at a young age. Even little reductions in screen time may positively affect children's mental health and development.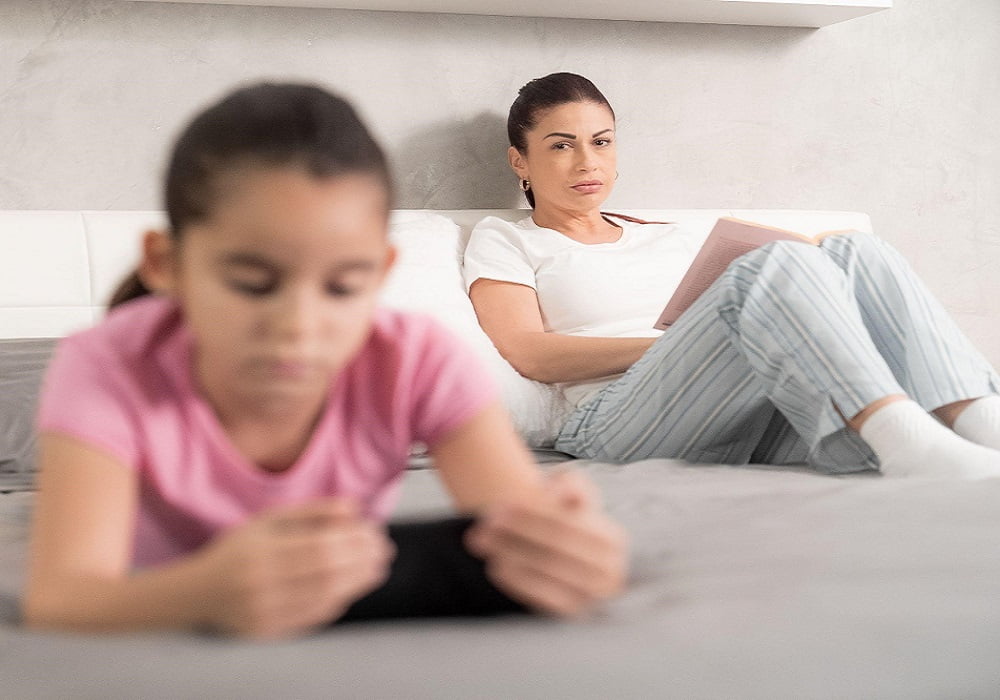 How to turn off kids' electronic devices without an argument?
Here are some suggestions for parents on how to turn off their kid's electronics without an argument:
Make device-free zones
Make specific rooms of your house off-limits to electronic devices such as cell phones, gaming consoles, and tablets. For example, your house's dining table or living room could be considered, which could be set off for family meals and family talks. A fun punishment can be imposed with a family agreement if someone, even a parent, tries to use a gadget in that area.
Make them earn their device usage.
Allocate some fun household tasks for your kids according to their capacity and capability. For example, make your small kids clean their toys or teens clean the hall and put the trash away. In this way, they could value that not everything is free and earn everything. Meanwhile, in that time set limits and be off from their electronic devices.
Screen time alternatives
Offer your kids much more interesting and attractive activities that lead them to turn off their phones and other electronics. Reading comic books, solving puzzles, playing board games, playing outdoors, and spending quality time with friends and family are just a few of the healthier activities for youngsters to enroll in instead of being hooked to a gadget.
You can keep your kids occupied without their gadgets by providing fresh and engaging activities. This supports children's development while having no negative influence on their mental health.
Set up parental controls with their agreement
Parental controls can enable parents to turn off their kids' electronic devices, which is a good option. Parents can install parental control spy apps such as MobileSpy, mSpy to limit their child's device usage and restrict them from accessing adult content.
However, before installing a parental control or spy app on your kid's phone, make an agreement with your kids. Parents may have a negative impact on kids when they know parents are spying on them and could lead to an argument or clash with your kids. So, it is necessary to let your kids know before implementing any parental controls on them.
Digital challenge
Organize a competition among family members to determine who can switch off their gadget for the longest period and reward the winner. It is a smart and entertaining idea that helps you regulate your children's screen time and turn off their electronic gadgets.
Family schedule
You may create schedules for device usage. This is similar to how you have morning, evening, and night routines in your family. Include your children in creating a family schedule that specifies when each family member may use their gadgets and at which time they should turn off. Kids will be more likely to stick to the idea if they are part of the decision-making process.
Teach children about the risks of excessive device usage
Address the impacts of smartphones and other digital gadgets usage with your kid. Encourage open conversation and concerns by actively listening, avoiding making judgments or comments. Also, giving children the freedom to address problems independently when necessary.
Make them realize how moderation and limit gadget usage time. Go a long way toward protecting children's mental health and developing healthy social habits in them.
Final thought:
With the right training, having the right conversations, and maintaining the right attitude, your children will develop a better appreciation for keeping their phones off-limits, as well as a sense of when and when not to use their devices. Be open and genuine with them from the start. And just let them know you will hold them responsible, ensuring there will be no surprises along the way.
Following all of the suggestions and tips, we ensure that you will be able to turn off your kid's electronics without having any arguments.